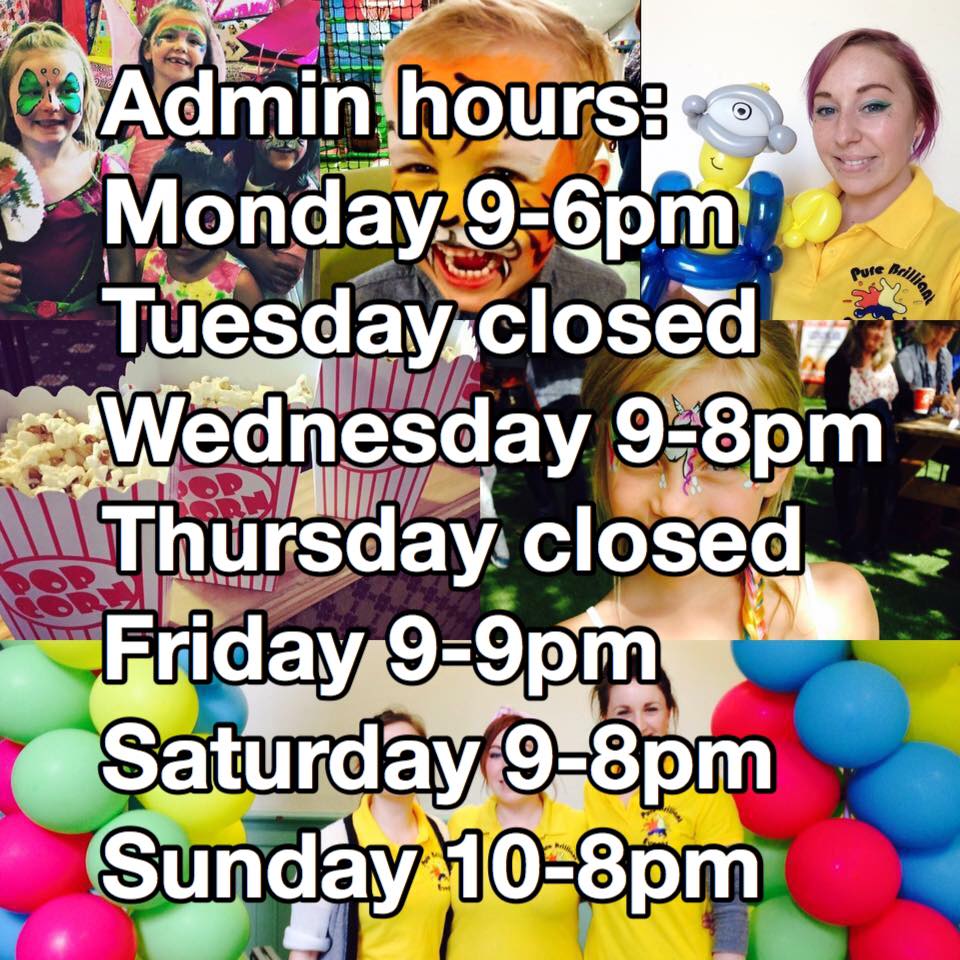 ---
It's exciting times here at PB HQ! We have some awesome bookings and events coming up in 2019 AND a surprise announcement about some new arrivals to our party packages coming soon! Keep your eyes here and on our social media to find out!
---
We hope you and your little ones have had a brilliant Christmas and New Years! 2019 is going to be an exciting time with us at Pure Brilliant Events, keep your eyes peeled here and on our Facebook page to keep up to date with what's going on!
---
It's that time of year again! October is not just full of birthdays but our favourite holiday of them all - HALLOWEEN!! We will be at James Pringle Outlet for their first ever Halloween disco on Saturday 27th 4-6pm where we will be making some Halloween theme balloons and serving our spooky green candy floss!
---
I'm back from holiday and the team and I are ready to take on this busy summer! Catch us at Dalkeith Country Park most weekends (see the Facebook page for exact times and dates) and of course you can catch me at my resident spot in Assembly George Square Gardens 2nd - 26th August!
Bex
---
Big Announcement!!!
I'm going on holiday! From the 2nd - 11th July. I will unfortunately not be able to take phone calls but I will still be contactable via email or our Facebook page, though perhaps replies will be a little slower than usual. Don't fret if you have a booking during that time, the team are all very organised and will take great care of you in my absence!
Thanks - Bex
---
Our new Party Packages are now LIVE! Check them out by clicking on "Prices and Party Packages" above

---
Looking for Easter ideas? What about Breakfast with the Easter Bunny 10am-12pm on Easter Sunday at James Pringle Shopping Outlet, Leith Mills Bangor Road! Children's tickets are £6 and include breakfast, an Easter egg hunt, meet and greet with the Easter Bunny himself and of course our face painting and balloon modelling!
Adults don't need a ticket and can choose to purchase breakfast on the day.
Booking is required so please call 0131 553 6423 to speak with one of the team at James Pringle Shopping Outlet
---
Yay our phone has been returned to us so we are now fully contactable again! Thanks for your patience!
---
---
We are happy to be supporting the wonderful folks at Alzheimer Scotland again this year at each of their Memory Walks. For dates and locations please follow the link below:
---
The news is out! We are have officially changed our Party Packages to make them bigger and better, but still great value! Head over to the Party Package section to see details and prices
Bex
---
---
---
It's that time of year again! You will find us at our face painting stall in Assembly George Square Gardens from 27th July all the way until 29th August! (Please note this will be weather dependent!)
There are tons of shows for the kids and adults too so check out their website for more info!
https://www.assemblyfestival.com/
---
Well done to everyone who took part in the Pentland Push on the 19th September! We had an amazing day supporting this event for such a worthy cause! If you fancy getting involved next year please check out the following links!
http://www.stcolumbashospice.org.uk